About the Magnificat Community


The Magnificat Community is a Catholic Lay Community based at Cross Creek Farm in the Wairarapa. Our community comprises a range of individuals from various backgrounds who have come together in the desire to live a committed Christian life. As a community we pray, reflect, share, learn and support each other on our faith journeys. Eighteen people are resident at the farm and we have single, consecrated, and families living together.
At our 60 acre community farm we provide a rural retreat where people can come to be spiritually nourished. It is a place of peace where individuals and groups can take time out from their busy lives to reflect, enjoy the rural environment and deepen their relationship with God.
We have two residences available – Bethlehem and Nazareth. We are able to accommodate up to 55 guests. Our large chapel is available for use and there is a well-appointed prayer room in the Bethlehem residence.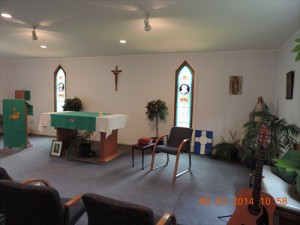 Our farm pets also help engender a sense of peace and well-being, and many people enjoy their interaction with our friendly donkeys, llamas, alpacas, pigs, goats, lambs, horses and dogs! Ours is very much a ministry of friendship and hospitality and our main focus is to be present and available to people.